Merlin's Nightmare: a 2015 Clive Staples Award semi-finalist!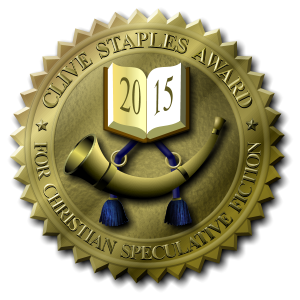 One round down, two to go!
MERLIN'S NIGHTMARE has progressed past the first round of nomination voting to become one of the twelve semi-finalists in the 2015 CLIVE STAPLES AWARD.
The winner will be announced at the REALM MAKERS catered costume dinner on August 7th. Registration is still open for the conference, so come and join us, it's going to be incredible!
To make the semi-final round is quite an honor, for there is some excellent competitors on the list!
A Draw of Kings, by Patrick Carr
A Time to Die, by Nadine Brandes
Blood for Blood, by Ben Wolf
Golden Daughter, by Anne Elisabeth Stengl
Haunted, by Charity Tinnin
Merlin's Nightmare, by Robert Treskillard
Reapers, by Bryan Davis
Resistance, by Jaye L. Knight
Saving Yesterday, by Jessica Keller
The Seahorse Legacy, by Serena Chase
The Seventh Door, by Bryan Davis
The Warden and the Wolf King, by Andrew Peterson
So, if you've read two books in the above list, you are eligible to vote for the novels that make it to the finals!