Book Trailer Released: FROM DARKNESS WON !!
Yes, it's finally out!
The hugely anticipated book trailer created with blood, sweat, tears, and lots of special effects! FROM DARKNESS WON is the last and ultimate novel of the celebrated, best-selling BLOOD OF KINGS series by Jill Williamson !
Without further delay, here is the trailer:
And yes, yours truly has a short cameo as Sir Gavin Whitewolf, adviser to the King … well, at least a cameo of the back of my head!
Here are the principal creators and actors:
Director Jacob Parker played Prince Esek.
Christian Miles Kolmorgen played the new king, Achan Cham.
Author and script-writer Jill Williamson played Duchess Nitsa Amal
Costumer Adele Treskillard played Lady Averalla, also known as Vrell Sparrow.
3D Special Effects artist Leighton Hajicek played a minstrel.
Alex Winkleman played Sir Shung, the bodyguard of the king.
Make-up artist Ness Hajicek played a minstrel fiddler and standard-bearer.
Chester Misener played Sir Kenton.
Stephen Myers played Bran Wrennen.
Juliana Ziegler played Gren Fenny.
Noah Hall played Matthias.
Zac Hall played one of Esek's soldiers.
Genny Hall played a villager.
Peter Loban played a standard bearer.
And the original music score was composed and played by the incredibly talented Jon Maiocco!
And here's an incredible thanks to everyone who helped support the trailer:
Tegid Bard
George Henley
Jill Williamson
Diana L. Sharples
Matthew Sample
Ryan Paige Howard
Andrew Loban
Carlson Triebold
Diane M. Graham
Melissa Steinkamp
Beverly Ulmer
Caleb Breakey

Shawn Edwards
Jay Lauser
John Otte
Kerry Nietz
Lina Marker
Michael Miller
Nichole Joy White
Patrick Danzier
Cara Watters
The Stuesse Family: Bruce & Janet, Hannah, Tiffany, Victoria, Olivia, Gabbie & Genevieve
The Dahnim Family: Diane, Deborah, Joseph, Daniel
Megan Pennington
Karen Cernich
Debby Kwiecien
Phil Zahn
Tony Camjen
And I apologize if we left anyone out. If so, let me know and I'll add you to the list!
And for those of you who were part of the Kickstarter project, we are putting the final touches on the awards, so pay attention to your inbox in the coming weeks!
And so what's next in the book trailer department? Why nothing less than a MERLIN'S BLADE book trailer!
---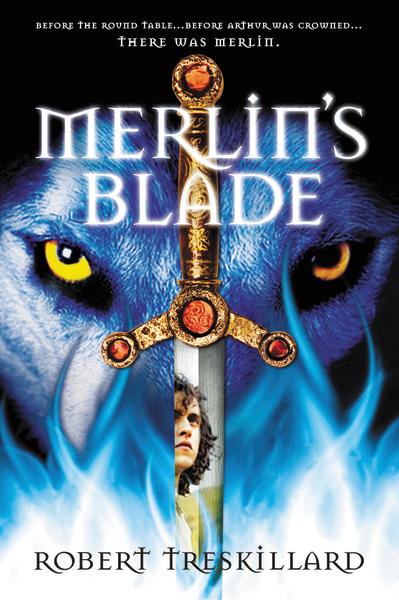 Robert Treskillard is the author of MERLIN'S BLADE, book 1 of The Merlin Spiral, which will be released internationally by Zondervan in February 2013.