HUGE NEWS #2: Merlin's Blade Publisher Revealed!
Today I announce who is publishing MERLIN'S BLADE, MERLIN'S SHADOW, and MERLIN'S NIGHTMARE.
None other than … ZONDERVAN!
Yes, that's true, and amazingly so. Back when I first began writing, it was my hope that if only I could sign with a literary agent, that one of the big publishers would be interested in my novels.
Back in 2007 I wrote the following on my blog:
Bottom line…I am hoping that out there somewhere in the universe of publishing that an agent and a publisher exist that will look seriously at my work and not dismiss it simply because of its topic.

But I need to be up to the challenge in order for that to happen. I really need to learn the craft of writing. If I don't present a book that is well written, then I expect it to be rejected.

I really am hopeful that this topic can sell. One author, now forgotten by me, put it this way:

"There are more fans of King Arthur in California alone than in all of Great Britain."

How can this be? Because his popularity is everywhere.

My thesis (that my books live or die by):

If I write well and have a unique, exciting story and voice, it will sell.
But, after having trouble finding an agent during 2009 and the first half of 2010, I gave up, and began to look toward the smaller publishers where I didn't need an agent.
Yet here I am, with an excellent agent, Les Stobbe (who I signed with in July) … and with Zondervan really excited to publish all three novels of THE MERLIN SPIRAL!
And here's Zondervan's perliminary cover: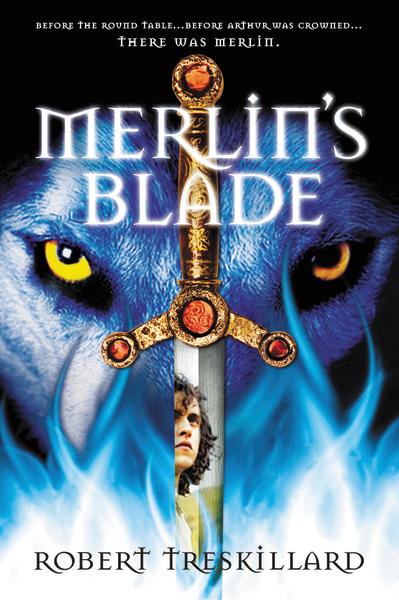 And on top of this, Zondervan is a division of HarperCollins, which means the books will also be released in the UK… exactly what I had hoped for.
So all of you Arthurian fans out there … hold onto your helmets and pick up your shields! Things will be heating up around here leading up to the release of MERLIN'S BLADE.
And come back tomorrow to find out the timing of the publishing schedule!
| | |
| --- | --- |
| Day One: | Announcement of the publishing contract |
| Day Two: | The revelation of the name of the publisher |
| Day Three: | Disclosure of the publishing schedule |
| Day Four: | Announcement of my promotion plans |