The Laity Lodge Writers Retreat: A Travelogue
I arrived back form the western foothills of Texas on Sunday night, and thought I'd write about my experience at the Laity Lodge Writers Retreat.
The Laity Lodge courtyard and fountain.
(The following notes are as best as I can remember, so if I have forgotten details or gotten the order of events mixed up… mea culpa!)
Thursday
After six hours of travel (four flying and two driving), I arrived at the lodge, making friends with Cameron Lawrence on the way: a poet and soon to be father. Olga drove us—right through the river in the canyon—the only way to get to the lodge!
The view of the "road through the river" out the back of Olga's jeep.
After settling into my room that I shared with David Meacham, I went and explored the Frio River, which had been dammed up to make a kayaking, swimming, and fishing area in front of the lodge. Amazing!
The Laity Lodge great hall and dining room across the Frio River in southwest Texas.
While I was waiting for our orientation session to start, I spoke briefly with author Ross Lawhead, Stephen R. Lawhead's son. We chatted about his and his father's books, and then I went to sit down again.
I was very nervous about approaching his dad, who shortly entered the room.
Well, I had nothing to worry about, because within about five minutes, Stephen Lawhead approached me! Ross must have mentioned my name, and Stephen must have recognized it from my writing sample as well as Tegid mentioning my name at the Dallas book signing.
Anyway, we spoke for awhile, and he was very friendly! Soon the bell tolled for dinner, and I was able to sit across from him and we spoke at length about The Skin Map and the direction the series will take.
At the session that night, Steven Purcell (the director of Laity Lodge) shared the history of Laity Lodge, as well as the H.E.B. Grocery store chain and the family that founded it. It is truly amazing what God has done!
The worship music was provided by Ashley Cleveland and Kenny Greenburg, and it was heartfelt, fun, and jazzy with a touch of soul.
David and I stayed up late talking about writing, and soon it was…
Friday
I slept in until breakfast … and here I must express my thanks to the kitchen staff for graciously providing me with vegetarian alternatives where needed. While I eat eggs and fish, it was wonderful to have fresh salads, quinoa, squash, mashed potatoes, and an asian cabbage dish as alternatives at the various meals!
Scott Cairns, a poet and professor from Mizzou (the University of Missouri, Columbia) gave the devotional that morning, reading from his book The End of Suffering.
Afterward, we had our first fiction writing workshop with Jeffrey Overstreet. Jeffrey has written the excellent Auralia's Colors series, and I am eagerly awaiting the next installment arriving next Spring: The Ale Boy's Feast. I had Jeffrey sign all my copies of his books, woo-hoo!
At lunch I sat with Jeffrey and his wife and got to know them a little better.
Then came free time, and I spent some time kayaking on the Frio river … absolutely clear and fresh. Amazing!
At the end of my journey, Marcus Goodyear and I had a talk about our books and struggles … he laying on the floating dock and me sitting on the kayak. This was fun, because Marcus and I met online a few years ago, and the writers retreat is his brainchild. Thanks, Marcus!
At dinner I was able to eat with Stephen Lawhead in front of me, and Jeffrey Overstreet next to me, so that was quite amazing.
The general session that night was by Jeffrey Overstreet on how to tell stories. Excellent, heartfelt, insightful, and touching.
Robert with Jeffrey Overstreet.
Stephen Lawhead also signed my two copies of The Skin Map (one to give away next month as part of the CSFF Blog Tour), and book one from The Song of Albion: The Paradise War.
Stephen, Ross, and I had a fun time trying to figure out which edition the book was and where it was published… because I had bought it recently to replace one lent and never seen again. This copy was slightly smaller than the standard edition, and we finally concluded that it must have been a book club edition.
I would have brought all my books for him to sign, but, alas, my suitcase would have exploded!
Soon it was…
Saturday
The morning was a blur, the workshop with Jeffrey excellent, and I soon found myself preparing to meet Stephen Lawhead for my 45 minute writer's consultation about Merlin's Shadow.
Beforehand I went to the art center and made a bead necklace for my wife, Robin, from the hundreds of beads they had available. The art supplies are all free, and I was able to make something special for her.
Robert with Stephen Lawhead, his son, Ross, and wife, Alice.
At the consultation I received one-on-one help from the master novelist himself. Stephen has a unique perspective ideally suited to advising me, and he helped me realize: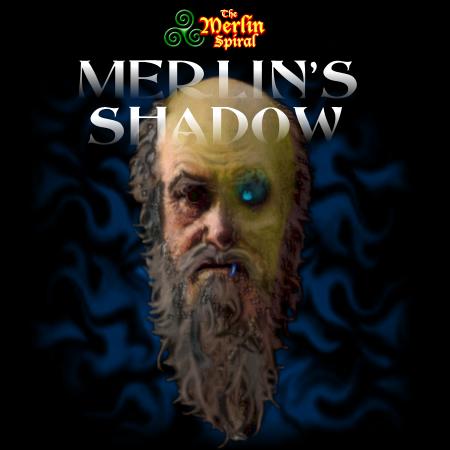 I need more rigor in my name and place-name choices, creating proper spelling and pronounciation rules. For instance, I need to avoid using both "C" and "K" and pick one or the other ("C" being my choice)
I need to limit my one sentence paragraphs, which I seem to litter all over my chapters. "If everything is special, then nothing is" … and I need to use these at most once a chapter.
I need to check all of my dialog to make sure it never sounds like a 20th century American with bad grammar! Likewise, some of the dialog can be too formal for some characters.
In short, though, I was greatly encouraged, and with these minor changes the speedbumps should be removed for those more familiar with ancient British history.
Then we enjoyed a concert from Over The Rhine, who taught the songwriting workshop during the weekend.
Ah yes, the evening ended with a rousing ping-pong battle between musician/comedian Jim Gill and I … more about him on Sunday!
Sunday
Sunday morning began for me as usual … up early, tea in hand, sending emails to my family to start their day, and writing a new scene in Merlin's Shadow.
The final meeting of the retreat was a worship service. For this they reversed all of the chairs so that we could see God's creation in the incredible view of the canyon.
The beautiful Frio River
As part of this, they had a sharing time, and Jim Gill and Jeffrey Overstreet had planned a humorous skit of Jeffrey singing a modified "Rainbow Connection" while holding a Kermit-like green sock-puppet playing a Banjolele (a ukulele like banjo). Jim hid behind the piano and played his full size banjo so it would appear that Kermit was doing it.
Jeffrey Overstreet with Kermit The Sock, and Jim Gill hiding behind the piano
Anyway, it was hilarious, and a hard act to follow for the more serious minded.
Gordon Atkinson gave a strong message pointing to our need for grace, and then we received communion.
Brunch was spent with Stephen Lawhead and Gordon Atkinson, and then came the time for the long trip home to my wonderful, loving wife and family!
Before leaving, I was able to spend time in the airport with fellow church-member, Glynn Young. We had seen each other for years at the large church we attend, but had never spoken. It turns out Glynn is a professional writer, poet, and editor for the High Calling Blogs—and we both learned about Laity Lodge through Marcus Goodyear!
Glad to meet you finally, Glynn, and what an odd way to do it!