What? you say… you're back to editing?
Yes, it's true, and all for the better. Three weeks ago Scott Appleton and his wife stayed with us while he was on his road-trip signing and selling books, and I had him review a few sections of Merlin's Blade.
What he found showed me I needed to take one more pass through the entire novel to clean up a few things. Thanks, Scott!
As part of this editing, I'm also making my novel a little more Young Adult friendly by toning down two parts. Don't worry, though—the novel will still be immensely enjoyable by adults.
So that you can see my progress, I have updated my "red bar" in the upper right corner of my blog to reflect my editing progress.
Getting the manuscript in tip-top shape is especially important because I am doing three things, all of which are groundbreaking for me:
I Submitted Merlin's Blade to Amazon's Breakthrough Novel Contest
The timing was barely right to officially enter the Young Adult category of Amazon's Breakthrough Novel Award contest. I was able to finish up basic editing to fix the things Scott identified, and so I beat the deadline! (I still have more detailed fixes, though.)
This contest is a way-way-way long shot, with 5000 entries in the Young Adult category, but I feel that I do have a chance. Here are the rounds:
Key Date
Content Milestone
Feb. 25
Amazon Editors announce which 1,000 YA entries of the 5000 (based on their 300-word pitches) go on to the Second Round.
March 23
Amazon Editors and Vine Reviewers announce which 250 YA Quarterfinalists move to the Third Round. Judgment was based on the 3000-5000 word excerpts.

From this point on, Amazon customers can download, rate, and review excerpts on Amazon.com, providing feedback about the submissions.

April 27
Publishers Weekly Editors have now read the full manuscripts, and announce the Top 50 YA Semifinalists

Amazon customers can continue to download, rate, and review excerpts.

May 25
Penguin Editors, reading the full manuscript, announce the 3 YA Finalists
June 14
Amazon customers have voted and picked the Amazon Breakthrough Novel Award winner in YA fiction.
I Submitted Merlin's Blade to the Christian section of Authonomy.com
Authonomy.com was setup by HarperCollins, who is the owner of Zondervan. Both Baker Book Group and Zondervan have promised to look at titles that rise to the top of the Christian section of Authonomy.
Since both of these publishers are closed to unsolicited manuscripts without an agent, this is my way of hopefully getting their attention.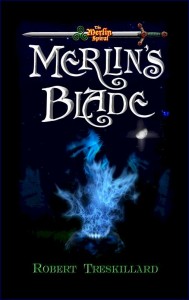 In order for Merlin's Blade to rise to the top, however, I'll need support from all my blog and Facebook followers, so go on over to Authonomy, register, and add my book to your bookshelf.
At this point if you have only read the first chapter of my novel, you can NOW read the first ten chapters—all of Part One at authonomy.com
NOTE: Because authonomy.com was originally a site for secular novels, anyone living with their parents should get their permission and involvement before visiting.
Submitting Merlin's Blade To Publishers
Although there is some positive movement on the agent front (one just requested my full manuscript 🙂 ) I am considering submitting MERLIN'S BLADE to a few smaller publishers that do not require an agent. (This probably won't happen until late March.)
I don't know my chances, but I feel they can't be any harder than trying to find an agent!
Keep informed about the latest news and events for The Merlin Spiral and the upcoming Pendragon Spiral!