The Curse Of The Spider King — Day 1
THE BOOK: Seven teenagers. Portals to another world. Ghoulish assassins.
ITS CREATION: Two co-authors. Virtual collaboration through the internet. Devilishly difficult plot lines.
MY REACTION: Two Thumbs up. A book that opens up a make-believe world. Skin crawling on my back.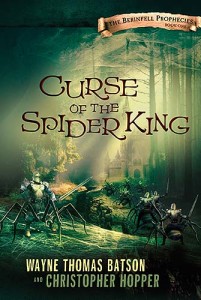 That about sums up THE CURSE OF THE SPIDER KING (COTSK), a new novel written by Wayne Thomas Batson and Christopher Hopper. COTSK is the November book for the Christian Science Fiction and Fantasy Blog Tour.
But before I get into the guts of my review, I have two confessions.
CONFESSION #1: Out of fairness, I am supposed to notify you, my loyal blog readers, that I received a free copy of this book from Thomas Nelson Publishers so that I can review it on my blog.
But I REALLY don't NEED to tell you this, because the actual copy that I read was not given free. My son had lent out that copy to a friend, and I read the copy that he had purchased. Yes, that's right … this book is so good we purchased another copy, which my son is planning on giving away to earn points for his tribe, which leads me to…
CONFESSION #2: The "tribe" that my son and daughter are on is part of Wayne and Christopher's "get the word out genius marketing campaign", and I have to admit … I'm in the same tribe too! Yes, yours truly is part of the NightWing Tribe that Jacob Parker started.
We believe so strongly in this book (and the AUTHORS!) that we are helping put together a book trailer to promote it, as well as programming a flash-based web advertisement/game for the book. Okay, so there you have it: I'm not impartial! HAH!
WHAT'S THE PLOT OF COTSK?
The seven Elf-Lords of the world of Allyra are dead at the hands of the Spider King. But their seven children still live … on earth, hidden amongst adopted families. Protected by an ancient curse that would befall any who slay them, assassins are standing ready to kill them on their thirteenth birthday when the curse ends.
But elven guardians are waiting in the wings to swoop in, protect them, and take them back to Allyra where they can help defeat the Spider King.
This is a classic struggle between good and evil, with the odds seemingly stacked in evil's favor, which makes for an exciting read.
SO HOW WELL IS COTSK WRITTEN?
One of the great things about this book—and I know it's been said elsewhere—is that it turns the typical "portal fantasy" on its head. Instead of having children from this world visit another world, here the fantasy world invades our world.
This is incredibly creative! It makes the story very immediate, very relatable, and, I would say, scarier.
Before I became a Christian at age 15, I used to play many different "role playing games", which I quickly, and wisely, rejected as I clung to Christ and he began his work of sanctification in me.
The freakiest and scariest one I ever played was "Call of Cthulu" (no recommendation here, folks!) based on H. P. Lovecraft's writings. I realized later that the reason this game was so scary is that it was so close to "real life". The monsters were here, in our world. When the game ended, the feelings didn't go away because I was "still" in that world.
This was the same feeling I had while reading COTSK.
The monsters are here. One scene in particular scared me incredibly (the first time that a teenager Elven-Lord and his guardians attempt to go through a portal back to Allyra) Why? Because it was set in one of the scariest places you can place ANY scene in the modern world—an abandoned, decrepit insane asylum. Wow did my skin crawl. Wayne and Christopher wrote this scene masterfully.
Also, I must say that the authors attempted—and succeeded at—a very challenging plot. To write from the perspectives of seven different characters and their guardians was incredibly difficult, but they did it successfully. No, we don't get into any of their worlds enough to *really* know them deeply, but I do feel like I cared for what happened to them, and that is the main goal of characterization. Way to go, guys!
WHO WILL LIKE COTSK?
This is one of the more excellent young adult novels that I have ever read. Not only do the dynamic duo of Wayne "Batman" and Christopher "Robin" ** pull this book off with flying colors, but they have laid the groundwork for a series of novels that promises to be a set of classics.
** (okay, I had to add that, you Winnie-The-Pooh and Batman fans)
So young adults from say, nine on up, will absolutely rave about this book. And adults will as well. I can't imagine an adult reading this book and not liking it immensely. That may be my bias, but if you take it for what it is, there is a lot to like here.
WHERE CAN YOU BUY COTSK?
Amazon, of course! I'm sure ChristianBook.com has it as well. And word has it that you'll probably be able to find it in your local Borders and Barnes & Noble bookstores. Oh, and the Christian bookstores will probably have it, too. Okay, so you can probably purchase it anywhere—so just go and get it!
And if you like it as much as I do, you may just want to join one of the tribes to help promote it. Go to Heed The Prophecies to find out more.
TOMORROW
Come back tomorrow for Day 2, where I cover a few nit-picks I have about the book. Yes, despite my glowing review here, even COTSK can be improved upon. Just don't expect tomorrow's post to be very long. So there.
On day three, I'm going to cover the spiritual content of the book, so come on back, you hear!
Endurance and Victory!
OH!, and check out the other tour members blogs: